Afternoon tea cakes...vegan & delish!
Hello!!! I'm more than happy to share with you the blogpost done by the fashion designer Carolina Benoit. I opened the doors of my house and shared with her some guilt free and delicious vegan desserts recipes!
Ps. the rosettes dress I'm wearing is from her fall collection! You can pre-order by visiting her store: www.carolinabenoit.com
I hope you have as much fun reading this as I did cooking the desserts and posing for Caro's lens ;)
BUSINESS GIRL CRUSH: LAUREN & FOOD FROM THE HEART
The modern Marie Antoinettes have found their go-to place for afternoon tea cakes! With her magic wand or better yet, kitchen aid mixer, this chef creates beautiful little cakes (and many other things) that any girl with a sweet tooth will die for! We present to you our latest business girl crush: Miami's Lauren Arboleda, the girl behind Food From The Heart, who opened her prim Miami kitchen to teach us some vegan recipes and answer our Proust Questionnaire, all while wearing our rosettes dress…
Carolina Benoit: How did you decided to take the leap and open your own business?
Lauren Arboleda: As soon as I finished High School, I went to Rome for a year, and attended cooking classes while working in a restaurant's kitchen. During that year I would travel every weekend and tried to absorb every country through its food. After that, I moved to Atlanta, took photography classes and finally came to Miami where I'm currently finishing my marketing major at UM. I created Food From The Heart to merge my passions: cooking and conquering people's heart through food and helping the world by supporting the non-profit organization for HIV infected children.
- CB: Now the fun part! What is your most marked characteristic?
LA: I put my heart into everything I do.
- CB: What is your dream of happiness?
LA: Being able to share my food, vision and good energy with others.
- CB: Any place you dream to travel?
LA: India. Colors, smells, new tastes…
- CB: What is your Favorite color
LA: Pink, I can't deny it, I'm a girly girl!
(We noticed that when she picked our super romantic and ultra girly pink rosettes dress for this photo-shoot, good choice Lauren!)
-CB: What is your favorite flower?
LA: Hortensia, Pink Peony and Lavender.
-CB: Who are your heroes in real life?
LA: My mom and dad, they are my daily inspiration. My father teaches me to work hard for what I really want, self-discipline and persistence. And my mom teaches me to enjoy life, to laugh, think positively and most importantly, to live in the present.
-CB: What is your natural gift?
-LA: My creativity and the ability to mix and match colors, textures and flavors, I would say, my good taste.
-CB: What is your motto?
LA: "Do not dwell in the past, do not dream of the future, concentrate the mind on the present moment" – Buddha
-CB: Any tips for kitchen challenged girls like me?
LA: I recommend to start by getting familiar with the flavors, accents, and textures of food. If you do this, you will be able to start putting things together by instinct. Also, cook with your heart.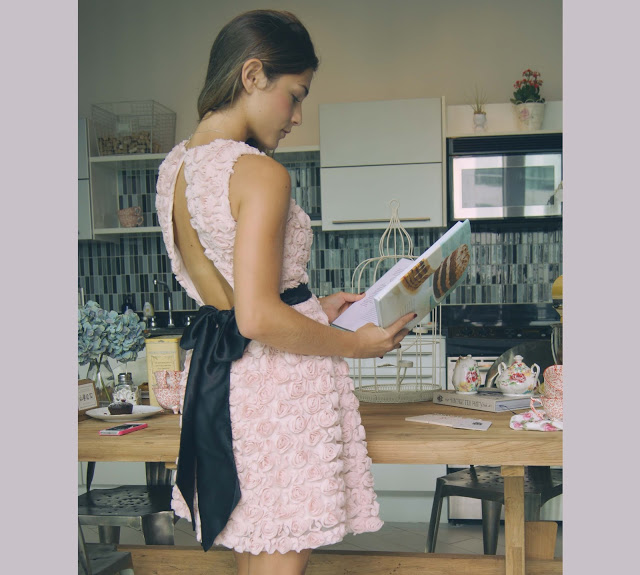 Cheat-Chocolate Treats:
Serves: 10
Ingredients:
- 4 oz semi-sweet baking chocolate
- 1/2 cup almond milk
- 2/3 cup of Kahlua
- 1/2 cup tahine
- 1 teaspoon of vanilla extract
- 1 1/2 cups of almond flour
- 1 cup of stevia
- 1 1/2 teaspoon of baking powder
- 1/3 cup of dutch-processed cocoa powder
- 1/2 teaspoon of salt
Pre-heat oven to 350 F. Heat the almond milk in a saucepan (almost to boil point). Add the chopped semi-sweet baking chocolate, Kahula, tahine, and vanilla and let the mixture be completely smooth until the chocolate is melted. Add the almond flour, powdered sugar, baking powder, cocoa and salt together to the chocolate mixture, stir until combined. Transfer mixture to silicone molds and bake for 15 minutes.
Pistachio Cake With Grand Marnier & Orange
Serves: 4 to 5
Cake Ingredients:
- 1/4 cup extra virgin olive oil
- 1/3 cup toasted any finely ground pistachios
- 1/4 cup unsweetened coconut yogurt
- 3 oz soft silken tofu
- 1/4 cup sugar
- 1/2 cup whole wheat flour
- 1/4 teaspoon baking powder
- 1/4 teaspoon baking soda
- Pinch of salt
Pre-heat oven to 325 F. In the mean while combine the tofu, yogurt, sugar, olive oil, and vanilla in a mixer at medium speed until combined. Add the flour, baking powder, baking soda and salt. Beat until well combined. Add the pistachios and beat again. Bake for 20 minutes. (use the toothpick test)
Marmalade Ingredients:
- 1 orange
- 1 lemon
- 1 cup of water
- 1/2 cup coconut sugar
- 1/4 cup Grand Marnier
Garnish Ingredients:
- 1/4 toasted and chopped pistachios
- 1/4 cup of fresh pomegranate sedes
Slice the orange and lemon into 1/4-inch slices, no seeds. In a saucepan combine the orange, lemon, water, sugar and Grand Marnier and bring to boil at high heat and then lower the heat, cover and let the marmalade cook for 45 min to 1 hour. Use a food processor until the mixture is thick and chunky.
Vanilla Coconut Creme
Serves: 6
Ingredients:
- 1/2 cup of coconut sugar
- 1/4 cups coconut milk
- 1 tablespoon agar powder
- 6 ounces soft silken tofu
- 2 tablespoons agave syrup
- Pinch of salt
- Unsweetened shredded toasted coconut for garnish
In a saucepan mix the coconut milk and agar for 15 minutes. In a blender combine the coconut milk mixture, tofu, agave syrup, vanilla and salt until smooth. Pour into ramekins and refrigerate for 2 hours.
Sweet Cashew cream with Chambord and Berries
Serves: 4
Ingredients:
Cream:
- 3/4 cup raw cashew pieces
- 8 ounces extra-firm tofu, drained
- 1/4 cup agave syrup
- 2 tablespoons fresh lemon juice
- 1 tablespoons Cognac
- 1 tablespoons coconut oil
- 1 teaspoon pure vanilla extract
- 1/2 teaspoon sea salt
Chambord Syrup:
- 1/2 cup chambord
- 1 1/2 cup of Blackberries, raspberries, blackberries and lemon zest for garnish.
In a food processor combine all the ingredients for the cream until smooth and refrigerate. In a sauce pan bring the Chambord to simmer until its reduced by half. refrigerate. Serve the cream, chambord syrup and topping the bowl with the berries and lemons zest.